For a lot of people, they'll probably think that Uploaded.net is a pretty new file hosting provider. That's true as it has been launched very recently, and just like any other file hosting providers out there, it's very helpful when it comes to sharing almost anything– ranging from TV shows, games, music, eBooks, files, and many more.
Overview
Just like what has been mentioned earlier, Uploaded.net is a file hosting provider, however, aside from the common features you can expect from a typical file hosting service, you can also use it for torrents, and that's why their motto has been, "unlimited free downloads," and that's what they have been delivering ever since its launch.
It's also worth noting that aside from personal use, Uploaded.net is also perfect for those who have to store large files and be able to share them with others.
Who Is It For?
Those who have to send large files over the Internet would definitely find Uploaded.net quite useful. Not only is it a secure remote storage capacity perfect for backups, but it also offers a number of solutions to its users. You can access personal data from different computers, which means there's no need to carry a USB stick wherever you go.
You wouldn't have to worry about your privacy as well. No one would be able to access the files you have uploaded, not unless you give them the download link. That means you really have nothing to worry about and your files would stay safe. Thus, it's a perfect way to backup or have a copy of your files wherever you are.

Types of Files You Can Upload
You are free to upload anything– ranging from memorable photos to important files and documents. However, there are also some restrictions that you really have to follow. You are not allowed to upload pornography, sexual images, nudity, and other kinds of offensive material. Of course, copyrighted material is also not allowed. To know more about that, we highly suggest that you visit their terms of service.
The Need for a File Hosting Provider
Try to think about it– how often did you have the issue of being restricted whenever you have to send large files? This can definitely be frustrating, especially if you really need to access or share the files right away. Not only can it be a waste of time, but it could also affect your overall productivity. For instance, you'll have no choice, but to go to the office on a weekend just so you'll be able to save the large file to the server of your boss for him to be able to access it. If not, then you'll have to dive the file into smaller documents just so it would fit with the email capacity. Something like this can definitely be very confusing, especially for those who don't even have a clue about the files they are accessing. This is where file hosting services come in. They are specifically made to host contents, such as large files. You'll be able to access them anywhere as long as you have the download link. To use Uploaded.net, you simply have to go to their website and follow the instructions on how to upload the files into their server.
Uploaded.net Premium Account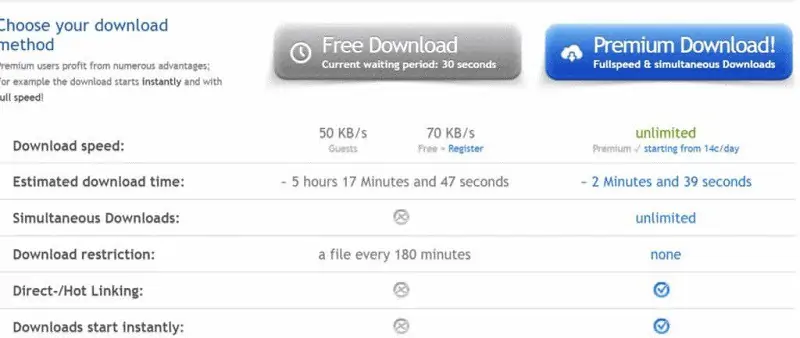 Just like other file hosting providers, there are different levels of membership and different costs associated with each plan. Although you can use their service for free, know that it's pretty much restricted. On the other hand, with a premium account, you'll be able to enjoy Uploaded.net to the fullest. There are several plans for a premium account, such as 9.99 Euros for 30 days, 24.99 Euros for 90 days, and 69.99 Euros for 365 days.
| | | |
| --- | --- | --- |
| 48 hours | 4.99 Euros | 500 points |
| 1 month | 9.99 Euros | 1000 points |
| 3 months | 24.99 Euros | 2000 points |
| 6 months | 39.99 Euros | 6000 points |
| 1 year | 69.99 Euros | 7000 points |
| 2 years | 99.99 Euros | 9,000 points |
Is It Possible to Hotlink the Stuff That Has Been Uploaded?
Unfortunately, Hotlinking is not allowed in Uploaded.net. As for files that you don't need anymore, you can easily delete them through the file manager. Simply select the file and delete.
Final Words
With Uploaded.net, you'll never have to worry about size limits, or having to carry a flash drive wherever you go. Your important files, documents, and the like would all be accessible online.
What are you waiting for? Give Uploaded.net a try and be able to enjoy what it has to offer.