Whenever you hit your mailbox to send an email, your main goal is to ensure you convey the right message to the intended recipient. The last thing you want to hear is that the message was too large for the servers.
Similarly, you want a system that will let you retrieve all communications remotely and conveniently.
Upstore.net is the solution to most challenges that affect virtual data storage platforms. It has efficient servers that can handle bulky files and create a secure off-site backup. Essentially, you can input and transfer every file format without worrying about storage space anymore.
Below, we highlight the features and benefits you'll derive by signing up for a premium account at Upstore.net.
What Is Upstore.net?
It is a virtual platform built for storing, sharing, and disseminating files. Upstore.net allows you to conveniently manage your data under safety protocols just like other online storage ports. You only need to create an account, and you'll be ready to enjoy remote storage services.
Upstore Premium: Benefits in Detail
Upstore.net has two options for every user who wants to shift to the remote storage world. You can sign up for a free plan, registered membership, or paid plan.
The downside of a free plan is that you'll often encounter limitations, such as slower download speeds and limited storage time for your files. It is always advisable to subscribe to a paid plan for these and other reasons.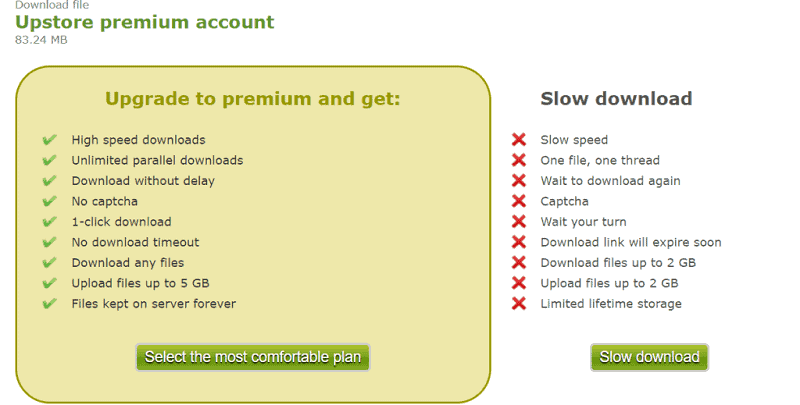 Here's what you'll get from an Upstore.net premium account:
Maximum File Size
As previously mentioned, file size is never a concern on the Upstore.net platform because it allows maximum file sizes for different plans. You'll have up to 5 GB of files on the paid plan to upload.
Enjoy Unlimited Storage
The paid plan has unlimited storage space for all files uploaded on the platform. This means you can upload as much as you want without deleting some files to create more room. Isn't it more convenient than to have a 1024 GB hard drive that will run out of space someday?
Download Your Files Speedily

When you enroll on the paid plan, you can say goodbye to slower speeds that are truly frustrating. You'll perform every action while onboard the high-efficiency servers that allow you unlimited speeds regardless of your file sizes.
Download Up to 20 GB
Upstore.net gives you a convenient way to download files on your queues. With 20 GB of volume every day, you can easily download music files, audio, and videos. If you stayed on the free package, you'd only download up to 20 GB of files every day.
Enjoy Support from Accelerators
Download accelerators come in handy as backups for your download speeds. The platform easily integrates with third-party download accelerators to make it easier for you. So, if you prefer to install one, you need to upgrade to the premium version.
Resume Unfinished Downloads
Have you ever had to stop your download midway for unexpected reasons? It could be a technical hitch on the servers or your device. While you should anticipate such pitfalls in cloud storage, starting the entire process again doesn't make sense.
A reliable platform such as Upstore ensures you resume seamlessly from where it stopped. But that's only possible with a premium package.
Keep Your Files Longer
Upstore.net has relatively more extended storage periods for files uploaded onto the system. The more you pay, the longer you'll have your files staying on the cloud space before expiry. On the premium plan, you can keep your files on the virtual servers for up to 90 days.
Upstore.net: The Premium Price
Upstore recognizes that payment can be a significant issue for some users; hence it has pocket-friendly offers for everyone. For as little as $12.00, you can enjoy file storage premium benefits.
Besides, you have various platforms to make your payment when upgrading your package. You can pay via PayPal, Bitcoin, Visa, Mastercard, Pay safe card, and many more.
We've outlined the four payment options to help you select the most affordable.
33 Days: $12
90 Days: $25
180 Days: $45
365 Days: $75
Frequently Asked Questions
Can I search for other users' files?
You can't search or access files that other users upload on the platform. Not everyone would like to share their files with others, so we guarantee this protection. You can, however, share your files with an audience of your choice.
What file types can I upload?
You can upload any file, including your party photos, music, and essential documents. Some files, however, may violate our terms of service, hence not acceptable. They include copyrighted content and child pornography. Be sure to check our TOS section to ascertain what you can upload.
Can I delete a file that I previously uploaded?
Yes, you can delete a file you previously uploaded via the "Delete Link" that the system automatically generates when you upload a file. Alternatively, you can automatically let the file clear from our system once it expires.
Upstore Premium: Is It Worth Anything?
If you are looking for a reliable solution for your file storage needs, Upstore.net is the best option.
First, it has efficient servers that allow you to upload and store massive files to avoid worrying about space. Then, when you update your account to the premium option, more benefits trickle down to your advantage.
You'll have unlimited download speeds, more storage volume for your files, and extra bandwidth for your daily downloads. Not only that, but you also have the support of download accelerators that enhance your speeds and efficiency on the platform.
And when your download stops midway, you don't have to worry since you can always pick up from your last stop. The cost is equally friendly, with four payment plans and various platforms to make your payment.
The following links provide helpful resources: Upstore.info and Upstore.net premium